"I closed my eyes, put my right hand on top of the book, and passed it lightly across the cover. It was cool and smooth like a stone from the bottom of the brook, and it stilled me. A whole other world is inside there, I thought to myself, and that's where I want to be." ― Katherine Hannigan, Ida B. . . and Her Plans to Maximize Fun, Avoid Disaster, and (Possibly) Save the World
Hi guys,
Hope you're all okay. Thanks for taking time out of your day to read my blog, I am so grateful for you all.
I've decided to join in with a series called Top 5 Wednesday. I was introduced to it last week, by my lovely friend Fernanda – https://thewanderlustreaderofficial.wordpress.com/. Go check out her blog if you haven't already and give her a follow, she writes great posts.
Top 5 Wednesday (T5W) was created by the YouTubers Lainey – https://www.youtube.com/user/gingerreadslainey/videos and Samantha – https://www.youtube.com/user/thoughtsontomes in 2013. I know I'm late to the party, but it's better late than never eh? It's a tag used by both YouTubers and Bloggers.
A new topic is chosen weekly and every Wednesday you upload a list of 5 books that are related to the chosen topic.
If you would like to get involved and join in, here is a link to the Goodreads group where each topic is published: https://www.goodreads.com/group/show/118368-top-5-wednesday.
If you're wondering when I'll be uploading my pieces of creative writing, it will still be on a Wednesday. This means that some weeks you'll be able to read TWO blog posts – Don't say I don't spoil you!
I Hope you enjoy. Comment which book covers you'd love to live in and why. I'd love to hear your answers.
Social Media links are below. Feel free to follow me on everything, including this blog. I always return the follow. 🙂
Ash
---
The T5W topic this week is Book Covers You'd Live In:
This topic got me rather excited when I thought about it and I struggled to narrow it down to just five!
I've included some books I read as a child, teenager and adult. I thought that I'd talk about the books in chronological order of when I read them as this seemed to make the most sense to me.

1. Roald Dahl – Charlie and the Chocolate Factory
I trawled the internet to make sure that I found the cover version of the one I read as a child. This one's a no brainer. I don't think there's any child, or even adult, that wouldn't want to be transported into the cover of Charlie and the Chocolate Factory. I absolutely adored this book as a child. My mother would sit on the edge of my bed and read me a chapter every night before I went to sleep.
Roald Dahl had this extraordinary way of bringing his novels to life and although I loved (still do) all of his books, this was by far my favourite.

2. C. S. Lewis – The Lion, The Witch, and the Wardrobe


This is another book I loved as a child. I always wished I could be transported into this cover and book. I loved the idea of Aslan, the talking lion, and I wanted more than anything to give him a cuddle.
Narnia was so magical and brilliant to imagine. It's definitely where my love for cats and turkish delight has come from!

3. J. K. Rowling – Harry Potter and the Goblet of Fire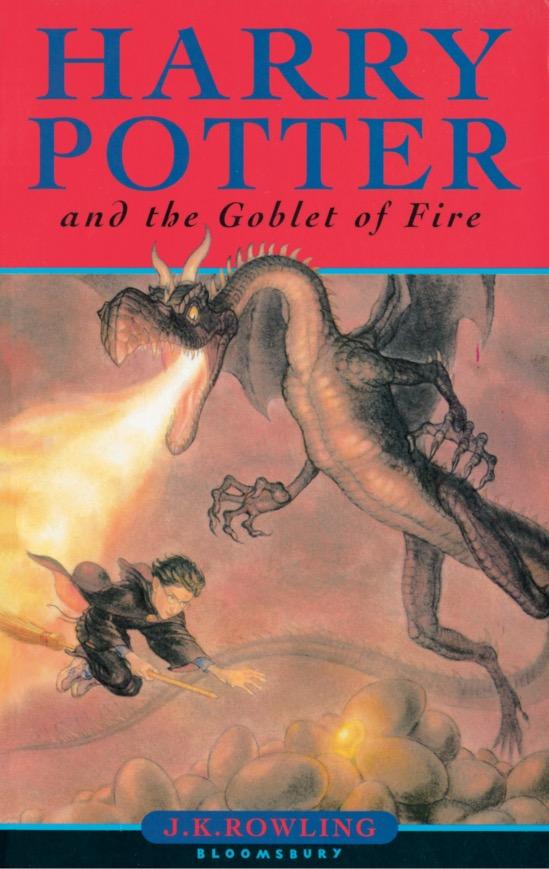 It took me a while to decide which Harry Potter choose. I nearly chose Prizoner of Azkaban because Buckbeak is on the cover and I always wanted to fly on his back. I also nearly chose the Deathly Hallows, but in the end it had to be Goblet of Fire. How cool would it be to fly on a broomstick around a Hungarian Horntail Dragon?
This book is definitely my favourite Harry Potter book and I always wanted to be able to complete in the Triwizard Tornament and watch the Quidditch World Cup.

4. J. R. R. Tolkien – The Hobbit




Again, this book goes without saying. The cover of the book makes me want to transport to Middle-earth instantly. I absolutely loved this book growing up, and I still do now. It's such a brilliant, well written and descriptive book that you really do feel like you're in the book and cover when reading it.
5. Giovanna Fletcher – Dream a Little Dream
On a slightly different note, this cover is not as magical as the others, but it still looks so beautiful. I'm a bit of a day dreamer, and seeing the woman lying on a cloud, daydreaming appealed to me. I'd love to be able to take time away from the busyness of everyday life and daydream like she is.
---

Social Media Links:
For The Love Of Books Facebook – https://www.facebook.com/FTLOBOOKS/
Personal Facebook – https://www.facebook.com/ashleigh.williams.9041
For The Love Of Books Instagram – https://www.instagram.com/_fortheloveofbooks_/
Personal Instagram – https://www.instagram.com/ashleighcanflyy/
For The Love Of Books Twitter – https://twitter.com/FTLOBOOKS
Personal Twitter – https://twitter.com/ashleighcanflyy
Goodreads profile – https://www.goodreads.com/user/show/69229254-ashleigh-williams
Contact me:
Email – ashleigh-bekkah@hotmail.co.uk
Credit to:
Katherine Hannigan quote – https://www.goodreads.com/quotes/37451-i-closed-my-eyes-put-my-right-hand-on-top
Charlie and the Chocolate Factory – https://www.abebooks.co.uk/blog/wp-content/uploads/2014/08/Charlie-and-the-Chocolate-Factory-Unwin-19801.jpg
The Lion, the Witch and the wardrobe – http://www.ebay.ie/itm/The-Lion-the-Witch-and-the-Wardrobe-The-Chronicles-o-Lewis-C-S-Hardback-/391729482019?hash=item5b34e58923:g:PJEAAOSwT5xZTiig
Harry Potter and the Goblet of Fire – https://static.independent.co.uk/s3fs-public/styles/story_medium/public/thumbnails/image/2016/02/26/13/Screen%20Shot%202016-02-26%20at%2013.51.19.jpg
The Hobbit – http://www.cbr.com/wp-content/uploads/spinoff/2010/04/hobbit-cover.jpg
Dream a Little Dream – https://images-na.ssl-images-amazon.com/images/I/817p9RtqpeL.jpg