"If one cannot enjoy reading a book over and over again, there is no use in reading it at all." – Oscar Wilde
---
Hi all,
Hope you're well! I'm sorry for the infrequent posts recently. I'm not giving up on blogging don't worry, I've just moved house. I don't currently have internet, so I'm having to rely on my phone data until it runs out.
Bear with me, my schedule will be back to normal asap. I will be posting on different days in the meantime to catch up on the posts I've missed over the past few weeks. Hope that's okay!
---
I was kindly asked if I wanted to be a part of the first Wonder Week Read-A-Thon, hosted by the lovely Rimpy over at https://rimpysreads.wordpress.com/, and after reading everyone's BookTube-A-Thon posts, I jumped at the chance to be a part of this.
Wonder Week Read-A-Thon will take place from today Friday 25th August until Saturday 1st September; so if you have some books you want to read and you haven't had the chance yet, now you can! I'm using it to help me get through my ever growing TBR list! 🙂
I'm lucky enough to be one of the hosts, and I'll be uploading my post on Wednesday 30th August. Here is a list of the other bloggers who will also be hosting and on what days:
Make sure to check out their Wonder Week Read-A-Thon posts too, and be sure to follow their blogs so you don't miss out on any of the fun!
---
For this Read-A-Thon, there is a bingo board to complete during the week. You just need to complete one line. Alongside the bingo board, each host will be posting a fun, book related game on their blog that you can complete.
The game I will be posting is: The Alternative Ending
You will have to come up with an alternative ending to one of the books you read during the WWRead-A-Thon. I thought I'd let you know a few days in advance so that you can have a think of yours whilst reading. ☺️
Here is the bingo board you'll need:
You can also follow the official twitter account @wwreadathon and you can use the hashtag #wwreadathon when you tweet about what you're reading! ☺️
---
Here is my TBR list for the week:

Single word title:
Bec – Darren Shan
I've read this book before and it's definitely one of my all time favourites, so I thought I'd use this opportunity to re-read it.

Fantasy:
Harry Potter and the Order of The Phoenix – J.K. Rowling

Again, this is a book I've read before. It's my least favourite in the Harry Potter series, don't get me wrong, I still love it, I just love the other ones more. I haven't read it for a good few years now though, so I want to re-read it again while I have the chance. As the quote I've chosen explains, you can't go wrong with a book that you can read over and over again!
Over 300 pages:
Wilde Like Me – Louise Pentland (400 pages)
I've wanted to read this book since it was released around a month a go. I've heard some good things about it and I'm looking forward to finally reading it.
Under 100 pages:
Winters' Snow – Carrie Hope Fletcher (46 pages)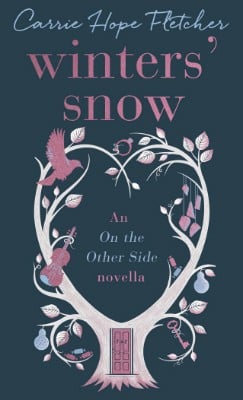 I read On The Other Side (great book by the way) last Summer and I've been meaning to read this follow up novella since its release but haven't had the chance to yet!
---
So, that's my list. What's yours for this week? Will you be participating in WW Read-A-Thon? Let me know in the comments below and be sure to follow my blog to receive a notification when my game goes live on Wednesday!
Ash
---
Social Media Links:
For The Love Of Books Facebook – https://www.facebook.com/FTLOBOOKS/
Personal Facebook – https://www.facebook.com/ashleigh.williams.9041
Credit to:
Oscar Wilde quote – https://www.goodreads.com/quotes/6856
WWRead-A-Thon Logo and Bingo board- https://rimpysreads.wordpress.com/
Bec cover – https://upload.wikimedia.org/wikipedia/en/0/0b/BecCover.jpg
Wile Like Me cover – https://images-na.ssl-images-amazon.com/images/I/51GbvynobCL._SX323_BO1,204,203,200_.jpghttps://images-na.ssl-images-amazon.com/images/I/51GbvynobCL._SX323_BO1,204,203,200_.jpg
Winters' Snow cover – https://cdn.waterstones.com/override/v2/large/9780/7515/9780751568707.jpg
Harry Potter and the Order of the Phoenix cover – https://upload.wikimedia.org/wikipedia/en/7/70/Harry_Potter_and_the_Order_of_the_Phoenix.jpg