Hi guys,
I hope you're all doing well.
I'm so excited for today's post as it's been something I've wanted to do since I started following my friend Kris's blog. Check out her channel here, it's brilliant.
If you're anything like me, you have what feels like an endless TBR list. I personally use Goodreads to keep track of my TBR list, but whether you use a physical list or whatever you find most helpful, you can still do this post too.
The person who created this idea is called Lia and you can check out her blog and Down the TBR posts here. I think this is such a great idea.
The point of these posts is simple. It's a way of sifting through your TBR list regularly to make sure you still want to read the books you've added and remove ones that you no longer want to read.
My TBR list on Goodreads currently stands at a whopping 531! So I definitely think these weekly posts will help me to get on top of it.
Here is how these posts will work:
– Go to your Goodreads to-read shelf.
– Order on ascending date added.
– Take the first 5 (or 10 if you're feeling adventurous) books
– Read the synopses of the books (I'm agoing to post the synopsis of each book too, incase anyone is interested in hearing more about the books.)
– Decide: keep it or should it go?
So here goes, hope you enjoy!
---
The Books:
1. Milk and Honey – Rupi Kaur
Milk and Honey is a collection of poetry and prose about survival. About the experience of violence, abuse, love, loss, and femininity.
The book is divided into four chapters, and each chapter serves a different purpose. Deals with a different pain. Heals a different heartache. Milk and Honey takes readers through a journey of the most bitter moments in life and finds sweetness in them because there is sweetness everywhere if you are just willing to look.
Judgement: Keep
I've wanted to read this for so long.
2. Me Before You – Jojo Moyes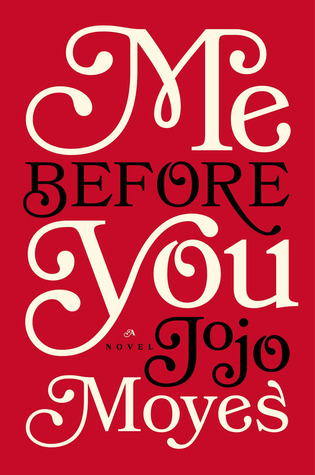 Louisa Clark is an ordinary young woman living an exceedingly ordinary life—steady boyfriend, close family—who has never been farther afield than their tiny village. She takes a badly needed job working for ex-Master of the Universe Will Traynor, who is wheelchair-bound after an accident. Will has always lived a huge life—big deals, extreme sports, worldwide travel—and now he's pretty sure he cannot live the way he is.
Will is acerbic, moody, bossy—but Lou refuses to treat him with kid gloves, and soon his happiness means more to her than she expected. When she learns that Will has shocking plans of his own, she sets out to show him that life is still worth living.
A love story for this generation, Me Before You brings to life two people who couldn't have less in common—a heartbreakingly romantic novel that asks, What do you do when making the person you love happy also means breaking your own heart?
Judgement: Keep
I fell in love with the film and sobbed my way through it, so I want to see how it compares to the book.
3. D is for Dahl: A Gloriumptious A-Z Guide to the World of Roald Dahl – Wendy Cooling


Did you know that Roald Dahl loved chocolate, but never ate spaghetti? Or that he was a terrible speller? Or that he had four sisters? D is for Dahl is an A to Z collection of facts, trivia, and zany details that bring Roald Dahl and his memorable characters to life. 
Filled with Quentin Blake's illustrations plus black and white photos, each spread is exploding with information about the creator of Willie Wonka, James, and Matilda; from his family tree to the exact type of pencil he used to write his stories. Perfect for devoted fans and Dahl newcomers alike, this is a glorimptious guide to the world of Roald Dahl.
Roald Dahl (1916-1990) wrote many beloved and award-winning books for children, including Charlie and the Chocolate Factory, James and the Giant Peach, and The Witches.
Judgement: Bye
On second thoughts, this isn't a book I'd read.

4. Billy and Me – Giovanna Fletcher


In this utterly sweet and moving women's fiction novel, a celebrity comes to town and sweeps a young woman – who is used to being overlooked – off her feet.
Sophie May is content with her life in her small English village, working in the local coffee shop and living with her mom. But when famous actor Billy comes to town to play Mr. Darcy in a new film adaptation of Pride and Prejudice, Sophie's quiet life is quickly turned on its head. Billy is adored by women around the world, but he only wants Sophie on his arm. But being with Billy comes at a price, and Sophie is thrown in the spotlight after years of shying away from attention. Can she handle the constant scrutiny that comes with being with Billy?
Brimming with humour, wit, and genuine warmth, Billy and Me is a book about taking a chance on life and on love.
Judgement: Keep
I started reading this last year and am yet to finish it. I love Gi's books so I'll definitely finish this soon.
5. Maus I: A Survivor's Tale: My Father Bleeds History (Maus, #1) – Art Spiegelman


A story of a Jewish survivor of Hitler's Europe and his son, a cartoonist who tries to come to terms with his father's story and history itself.
Judgement: Keep
Although I don't usually read graphic novels, this is one I definitely think I could get into and enjoy.

6. Wilde Like Me – Louise Pentland


Meet Robin Wilde! You'll make a friend for life and she'll take you on a journey you'll never forget …
Single mum Robin Wilde adores her six-year-old daughter and loves her job as a make up artist's assistant. She has a wonderful best friend and an auntie who is bonkers, yes, but loves her to the moon and back. 
But Robin has a secret. Behind the mask she carefully applies every day, things just feel … grey. And lonely. She struggles to fit in with the school mum crew. Online dating is totally despair-inducing, and she worries every day about raising her little girl with self-confidence, courage and joy.
What Robin longs for is someone (over the age of six) to share with – someone who's always on her team. 
After 4 years (2 months, and 15 days!) of single-mum-dom, it's time for Robin Wilde to Change. Her. Life. 
Exciting new opportunities are about to come Robin's way … Perhaps a man, perhaps the chance of a lifetime …
What will Robin do with the possibilities she creates for herself? And what potential will she unlock if she takes the leap?
Judgement: Keep
I've read the first chapter and it's one I've wanted to read for ages so it's definitely one to keep on my TBR list.
7. The Fitness Mindset: Eat for energy, Train for tension, Manage your mindset, Reap the results – Brian Keane

HOW WOULD IT FEEL TO HAVE THE BODY YOU'VE ALWAYS WANTED, A HUGE BOOST IN ENERGY, AND THE MINDSET TO KEEP IT FOREVER? 
Have you ever felt frustrated about not getting the results you want? Do you feel you are eating the right foods and doing the correct workouts but your body still isn't changing as quickly as you want? Are you grinding through your workday with low energy levels, praying for the next day off so you can sleep in? If this sounds familiar, then The Fitness Mindset is the book for you. 
The Fitness Mindset gives you everything you need to get the body you've always dreamed of, ramp your energy levels through the roof and develop the mindset to keep it forever. 
WHEN YOU READ THIS BOOK AND IMPLEMENT BRIAN'S PROVEN STRATEGIES, YOU WILL: 
• Know exactly what foods work best for you and how to eat to increase energy, lose fat and build lean muscle 
• Learn how to combine tension-style workouts and High Intensity Interval Training (HIIT) to build the body you've always wanted 
• Build better habits and find your 'why' so you never lose motivation again 
• Develop strategies to minimise stress, anxiety and the fear of rebounding so you can create a bulletproof body and mind 
• Finally get into the best physical and mental shape of your life. 
Judgement: Bye
I don't think I'd enjoy reading this.
8. Winter's Snow – Carrie Hope Fletcher


An exclusive On the Other Side novella featuring the characters Vincent Winters and Evie Snow
Prove yourself worthy.
Prove yourself true.
Fight like you didn't
and she'll come to you.
Evie Snow was the love of Vincent Winters' life, and of every lifetime he would ever live, but they didn't get the ending they wanted. He never stopped loving her though and he never, ever, forgot about her.
Suddenly Vincent has the chance to right an old wrong and to finally prove himself worthy of Evie's love – he just needs to get to her first.
As Vincent begins the journey of a lifetime, he learns more about love than he ever thought possible, and somehow, some way, he may also find his way back to the only woman he ever truly loved . . .
Judgement: Keep
You may remember this being on my list of books to read for the Wonder Week Read-A-Thon. I never got round to reading it, but I definitely will at some point soon.
9. The Couple Next Door – Shari Lapena


Fast-paced and addictive, THE COUPLE NEXT DOOR announces a major new talent in thriller writing.
You never know what's happening on the other side of the wall.
Your neighbour told you that she didn't want your six-month-old daughter at the dinner party. Nothing personal, she just couldn't stand her crying.
Your husband said it would be fine. After all, you only live next door. You'll have the baby monitor and you'll take it in turns to go back every half hour.
Your daughter was sleeping when you checked on her last. But now, as you race up the stairs in your deathly quiet house, your worst fears are realized. She's gone.
You've never had to call the police before. But now they're in your home, and who knows what they'll find there.
What would you be capable of, when pushed past your limit?
Judgement: Keep
My friend in work very kindly leant me this to read so it will definitely be a book I read soon.
10. Miss You – Kate Eberlen


Tess and Gus are meant to be. They just haven't met properly yet. And perhaps they never will . . . 
Today is the first day of the rest of your life is the motto on a plate in the kitchen at home, and Tess can't get it out of her head, even though she's in Florence for a final, idyllic holiday before university. Her life is about to change forever – but not in the way she expects. 
Gus and his parents are also on holiday in Florence. Their lives have already changed suddenly and dramatically. Gus tries to be a dutiful son, but longs to escape and discover what sort of person he is going to be. 
For one day, the paths of an eighteen-year-old girl and boy criss-cross before they each return to England.
Over the course of the next sixteen years, life and love will offer them very different challenges. Separated by distance and fate, there's no way the two of them are ever going to meet each other properly . . . or is there?
Judgement: Keep
I've bought this on iBooks so I'm hoping to read this before the end of the year.
---
Are there any books on this list that you've read or would like to read? Let me know in the comments below.
As always, my Social Media links are below if you'd like to keep up to date with my reading and day to day life.
---

Social Media Links:
For The Love Of Books Facebook – https://www.facebook.com/FTLOBOOKS/
Personal Facebook – https://www.facebook.com/ashleigh.williams.9041
For The Love Of Books Instagram – https://www.instagram.com/_fortheloveofbooks_/
Personal Instagram – https://www.instagram.com/ashleighcanflyy/
For The Love Of Books Twitter – https://twitter.com/FTLOBOOKS
Personal Twitter – https://twitter.com/ashleighcanflyy
Goodreads profile – https://www.goodreads.com/user/show/69229254-ashleigh-williams
Contact me:
Email – ashleigh-bekkah@hotmail.co.uk
Credit to:
Lia's TBR illustration – https://lostinastory.blog/2016/11/11/down-the-tbr-hole-1-conquer-your-tbr/
Milk and Honey cover – https://images.gr-assets.com/books/1487289191l/25986827.jpg
Me Before You cover – https://www.goodreads.com/book/show/15507958-me-before-you
D is for Dahl: A gloriumptious A-Z guide to the world of Roald Dahl cover – https://images.gr-assets.com/books/1388207270l/45159.jpg
Billy and Me cover – https://images.gr-assets.com/books/1438357158l/25663643.jpg
Maus I: A Survivor's Tale: My Father Bleeds History (Maus, #1) cover – https://images.gr-assets.com/books/1327884972l/15196.jpg
Wilde Like Me cover – https://images.gr-assets.com/books/1495710252l/32498973.jpg
The Fitness Mindset: Eat for energy, Train for tension, Manage your mindset, Reap the results cover – https://images.gr-assets.com/books/1499118337l/35594378.jpg
Winter's Snow cover – https://images.gr-assets.com/books/1476950058l/32710777.jpg
The Couple Next Door cover – https://images.gr-assets.com/books/1471502242l/28815474.jpg
Miss You cover – https://images.gr-assets.com/books/1457710892l/26594969.jpg


Milk and Honey synopses – https://www.goodreads.com/book/show/25986827-milk-and-honey
Me Before You synopses – https://www.goodreads.com/book/show/15507958-me-before-you
D is for Dahl: A gloriumptious A-Z guide to the world of Roald Dahl synopses –https://www.goodreads.com/book/show/45159.D_is_for_Dahl
Billy and Me synopses – https://www.goodreads.com/book/show/25663643-billy-and-me
Maus I: A Survivor's Tale: My Father Bleeds History (Maus, #1) synopses – https://www.goodreads.com/book/show/15196.Maus_I
Wilde Like Me synopses – https://www.goodreads.com/book/show/32498973-wilde-like-me
The Fitness Mindset: Eat for energy, Train for tension, Manage your mindset, Reap the results synopses – https://www.goodreads.com/book/show/35594378-the-fitness-mindset
Winter's Snow synopses – https://www.goodreads.com/book/show/32710777-winter-s-snow
The Couple Next Door synopses – https://www.goodreads.com/book/show/28815474-the-couple-next-door

Miss You synopses – https://www.goodreads.com/book/show/26594969-miss-you