Hi everyone,
If you're anything like me, you have what feels like an endless TBR list. I personally use Goodreads to keep track of my TBR list, but whether you use a physical list or whatever you find most helpful, you can still do this post too.
The person who created this idea is called Lia and you can check out her blog and Down the TBR posts here. I think this is such a great idea.
The point of these posts is simple. It's a way of sifting through your TBR list regularly to make sure you still want to read the books you've added and remove ones that you no longer want to read.
My TBR list on Goodreads currently stands at a whopping 531! So I definitely think these weekly posts will help me to get on top of it.
Here is how these posts will work:
– Go to your Goodreads to-read shelf.
– Order on ascending date added.
– Take the first 5 (or 10 if you're feeling adventurous) books
– Read the synopses of the books (I'm agoing to post the synopsis of each book too, incase anyone is interested in hearing more about the books.)
– Decide: keep it or should it go?
Here's a link to my other Down The TBR Hole posts if you want to check them out:
#1 https://ashleighbekkah.wordpress.com/2017/09/20/down-the-tbr-hole-conquer/
Enjoy,
---

1. Dear Amy – Helen Callaghan
Margot Lewis is the agony aunt for The Cambridge Examiner. Her advice column, Dear Amy, gets all kinds of letters – but none like the one she's just received: Dear Amy,
I don't know where I am. I've been kidnapped and am being held prisoner by a strange man. I'm afraid he'll kill me.
Please help me soon,
Bethan Avery
Bethan Avery has been missing for years. This is surely some cruel hoax. But, as more letters arrive, they contain information that was never made public. How is this happening? Answering this question will cost Margot everything
Judgement: Bye
I put this on my TBR list because I heard a lot of people talking about it. On second thoughts though, I don't think it would be my type of book.
2. An Abundance of Katherines – John Green


Katherine V thought boys were gross
Katherine X just wanted to be friends
Katherine XVIII dumped him in an e-mail
K-19 broke his heart
When it comes to relationships, Colin Singleton's type happens to be girls named Katherine. And when it comes to girls named Katherine, Colin is always getting dumped. Nineteen times, to be exact.
On a road trip miles from home, this anagram-happy, washed-up child prodigy has ten thousand dollars in his pocket, a bloodthirsty feral hog on his trail, and an overweight, Judge Judy-loving best friend riding shotgun–but no Katherines. Colin is on a mission to prove The Theorem of Underlying Katherine Predictability, which he hopes will predict the future of any relationship, avenge Dumpees everywhere, and finally win him the girl.
Love, friendship, and a dead Austro-Hungarian archduke add up to surprising and heart-changing conclusions in this ingeniously layered comic novel about reinventing oneself.
Judgement: Keep
I've read a few of John Green's books and I enjoyed them so I want to read this at some point.
3. The Strange Case of Dr. Jekyll and Mr. Hyde – Robert Louis Stevenson
In this harrowing tale of good and evil, the mild-mannered Dr. Jekyll develops a potion that unleashes his secret, inner persona—the loathsome, twisted Mr. Hyde.
Judgement: Keep
This is a book I've wanted to read for ages and know I will love, so I'm definitely keeping it on my TBR.
4. The Perks of Being a Wallflower – Stephen Chboksy


The critically acclaimed debut novel from Stephen Chbosky, Perks follows observant "wallflower" Charlie as he charts a course through the strange world between adolescence and adulthood. First dates, family drama, and new friends. Sex, drugs, and The Rocky Horror Picture Show. Devastating loss, young love, and life on the fringes. Caught between trying to live his life and trying to run from it, Charlie must learn to navigate those wild and poignant roller-coaster days known as growing up.

Judgement: Keep
It sounds like an interesting read.

5. The Book Thief – Markus Zusak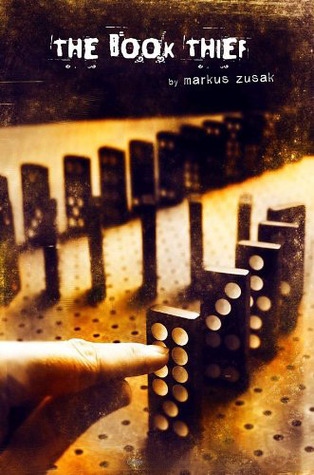 A story about, among other things: A girl, some words, an accordionist, some fanatical Germans, a Jewish fist-fighter, and quite a lot of thievery. . . .an unforgettable story about the ability of books to feed the soul. Winner of the 2007 BookBrowse Ruby Award.
Winner of the 2007 BookBrowse Ruby Award. 
It's just a small story really, about among other things: a girl, some words, an accordionist, some fanatical Germans, a Jewish fist-fighter, and quite a lot of thievery. . . .
Set during World War II in Germany, Markus Zusak's groundbreaking new novel is the story of Liesel Meminger, a foster girl living outside of Munich. Liesel scratches out a meager existence for herself by stealing when she encounters something she can't resist – books. With the help of her accordion-playing foster father, she learns to read and shares her stolen books with her neighbors during bombing raids as well as with the Jewish man hidden in her basement before he is marched to Dachau. This is an unforgettable story about the ability of books to feed the soul.
Judgement: Keep
I already have a physical copy of this, which I won at my local cinema. It's definitely a book I want to read as I have an interest in Nazi Germany. I also want to watch the film too.
6. The Notebook – Nicholas Sparks


A man with a faded, well-worn notebook open in his lap. A woman experiencing a morning ritual she doesn't understand. Until he begins to read to her. An achingly tender story about the enduring power of love.
A man with a faded, well-worn notebook open in his lap. A woman experiencing a morning ritual she doesn't understand. Until he begins to read to her. The Notebook is an achingly tender story about the enduring power of love, a story of miracles that will stay with you forever. 
Set amid the austere beauty of coastal North Carolina in 1946, The Notebook begins with the story of Noah Calhoun, a rural Southerner returned home from World War II. Noah, thirty-one, is restoring a plantation home to its former glory, and he is haunted by images of the beautiful girl he met fourteen years earlier, a girl he loved like no other. Unable to find her, yet unwilling to forget the summer they spent together, Noah is content to live with only memories…until she unexpectedly returns to his town to see him once again. 
Allie Nelson, twenty-nine, is now engaged to another man, but realizes that the original passion she felt for Noah has not dimmed with the passage of time. Still, the obstacles that once ended their previous relationship remain, and the gulf between their worlds is too vast to ignore. With her impending marriage only weeks away, Allie is forced to confront her hopes and dreams for the future, a future that only she can shape. 
Like a puzzle within a puzzle, the story of Noah and Allie is just the beginning. As it unfolds, their tale miraculously becomes something different, with much higher stakes. The result is a deeply moving portrait of love itself, the tender moments and the fundamental changes that affect us all. Shining with a beauty that is rarely found in current literature, The Notebook establishes Nicholas Sparks as a classic storyteller with a unique insight into the only emotion that really matters. 
"I am nothing special, of this I am sure. I am a common man with common thoughts and I've led a common life. There are no monuments dedicated to me and my name will soon be forgotten, but I've loved another with all my heart and soul, and to me, this has always been enough." 
And so begins one of the most poignant and compelling love stories you will ever read…The Notebook
Judgement: Keep
I absolutely adore the film, even if it does bring a lump to my throat every time I watch it. I definitely want to read this.
7. The Time Traveller's Wife – Audrey Niffenegger
The Time Traveler's Wife is the story of Clare, a beautiful art student, and Henry, an adventuresome librarian, who have known each other since Clare was six and Henry was thirty-six, and were married when Clare was twenty-three and Henry thirty-one. Impossible but true, because Henry is one of the first people diagnosed with Chrono-Displacement Disorder: periodically his genetic clock resets and he finds himself misplaced in time, pulled to moments of emotional gravity in his life, past and future. His disappearances are spontaneous, his experiences unpredictable, alternately harrowing and amusing. 
The Time Traveler's Wife depicts the effects of time travel on Henry and Clare's marriage and their passionate love for each other as the story unfolds from both points of view. Clare and Henry attempt to live normal lives, pursuing familiar goals–steady jobs, good friends, children of their own. All of this is threatened by something they can neither prevent nor control, making their story intensely moving and entirely unforgettable.
Judgement: Keep
I hadn't heard of this book until the film was released a good few years ago. Although I haven't seen it, the trailer interested me and I want to read and watch it some time soon.
8. Dear John – Nicholas Sparks


An angry rebel, John dropped out of school and enlisted in the Army, not knowing what else to do with his life–until he meets the girl of his dreams, Savannah. Their mutual attraction quickly grows into the kind of love that leaves Savannah waiting for John to finish his tour of duty, and John wanting to settle down with the woman who has captured his heart. 
But 9/11 changes everything. John feels it is his duty to re-enlist. And sadly, the long separation finds Savannah falling in love with someone else. 
Dear John, the letter read… and with those two words, a heart was broken and two lives were changed forever. Returning home, John must come to grips with the fact that Savannah, now married, is still his true love—and face the hardest decision of his life.
Judgement: Keep
I thoroughly enjoyed the film and would like to read the book. I always try to read the book of a film I've watched if there is one, to see how they compare. Often I prefer the book to the film, so if I've enjoyed the film, I know I'll probably enjoy the book too.
9. My Sister's Keeper – Jodi Picoult


Anna is not sick, but she might as well be. By age thirteen, she has undergone countless surgeries, transfusions, and shots so that her older sister, Kate, can somehow fight the leukemia that has plagued her since childhood. The product of preimplantation genetic diagnosis, Anna was conceived as a bone marrow match for Kate — a life and a role that she has never challenged… until now. Like most teenagers, Anna is beginning to question who she truly is. But unlike most teenagers, she has always been defined in terms of her sister—and so Anna makes a decision that for most would be unthinkable, a decision that will tear her family apart and have perhaps fatal consequences for the sister she loves.
A provocative novel that raises some important ethical issues, My Sister's Keeper is the story of one family's struggle for survival at all human costs and a stunning parable for all time.
Judgement: Keep
I've seen some of the film and although it's upsetting, enjoyed it. My friend recommended this book to me years ago and I still haven't read it, but would like to one day.
10. The Secret – Rhonda Byrne


The Secret's 10th Anniversary Edition includes a new foreword by Rhonda Byrne, and 10 of the most life-changing insights she's had over the last 10 years of practicing and living The Secret every day. The 10 insights alone will accelerate your understanding and mastery of the law of attraction.
Judgement: Keep
I was talking with a previous work friend about the law of attraction a few months ago. It's something I'd never even considered or heard about, and it intrigued me so much. He told me the basics of it and when I applied it to situations in my life, I found that it actually worked. This book delves deeper into this idea and is definitely one I'm going to pick up and read soon.
---

Social Media Links:
For The Love Of Books Facebook – https://www.facebook.com/FTLOBOOKS/
Personal Facebook – https://www.facebook.com/ashleigh.williams.9041
For The Love Of Books Instagram – https://www.instagram.com/_fortheloveofbooks_/
Personal Instagram – https://www.instagram.com/ashleighcanflyy/
For The Love Of Books Twitter – https://twitter.com/FTLOBOOKS
Personal Twitter – https://twitter.com/ashleighcanflyy
Goodreads profile – https://www.goodreads.com/user/show/69229254-ashleigh-williams
Contact me:
Email – ashleigh-bekkah@hotmail.co.uk
Credit to:
Dear Amy cover and synopses – https://www.goodreads.com/book/show/28581584-dear-amy
An Abundance of Katherines cover and synopses – https://www.goodreads.com/book/show/49750.An_Abundance_of_Katherines
The Strange Case of Dr. Jekyll and Mr. Hyde cover and synopses – https://www.goodreads.com/book/show/51496.The_Strange_Case_of_Dr_Jekyll_and_Mr_Hyde
The Perks of Being a Wallflower cover and synopses – https://www.goodreads.com/book/show/22628.The_Perks_of_Being_a_Wallflower
The Book Thief  cover and synopses – https://www.goodreads.com/book/show/19063.The_Book_Thief
The Notebook cover and synopses – https://www.goodreads.com/book/show/15931.The_Notebook
The Time Traveller's Wife cover and synopses – https://www.goodreads.com/book/show/14050.The_Time_Traveler_s_Wife
Dear John cover and synopses – https://www.goodreads.com/book/show/5526.Dear_John
My Sister's Keeper cover and synopses – https://www.goodreads.com/book/show/10917.My_Sister_s_Keeper
The Secret cover and synopses – https://www.goodreads.com/book/show/52529.The_Secret