Hi guys,
Hope you're all doing well.
It's a little delayed, but here's my October book haul!
I hope you enjoy,
---

Physical copies:

I purchased these two in Asda, they were 2 for £7. I've wanted to read both for a while and can't wait to start them!


milk and honey has been on my TBR for so long and I finally decided to purchase it as a birthday present to myself. I'll be posting my review of it shortly.
Books I won this month:
October was a rather lucky month for me as I won 4 books! Only 3 have arrived so far though, so hopefully I'll be able to include the 4th in November's book haul!
I won The Hating Game in a Goodreads competition.
I won Girls Made of Snow and Glass through an Instagram giveaway, run by @novelknight . Click on their Instagram handle to give their page a follow, they always run giveaways and the photos they take are gorgeous! I can't wait to start this book, I've wanted to read it for a while!
My lovely friend Sarah ran a competition for this book and I won one of the copies, yay! Go and give her blog some love, https://bookhookednook.wordpress.com/ – it's one of my faves. 🙂
I've wanted to start this series for ages and my friend kindly bought me this book for my birthday. She's read the books herself and has recommended them to me for a while. I can't wait to get started reading it! 🙂

Charity shop bargains:

While I was doing my internship, I decided to explore the town's shopping centre as I'd never been there before. There were SO many charity shops and I love looking for a book bargain. I ended up spending 3 lunch breaks scouring them all, and found some great books!
If you've read my second Down the TBR Hole, Conquer Your TBR post, you'll know that this was a book I decided to keep on my TBR list. I've wanted to read it for years and managed to pick it up for only 99p in Oxfam.
If you want to check out the post where I mention this book you can do so here, https://ashleighbekkah.wordpress.com/2017/09/21/down-the-tbr-hole-conquer-your-tbr-2/. 🙂
I also purchased Small Great Things from a different Oxfam store for only £1.50. Considering that this book was released last year, I thought this was a good price for it!
The next four books I bought in Barnado's. They were 4 for £1.99, how great is that! I had never really heard of A Discovery of Witches until October when quite a few book bloggers mentioned it. I would have paid £1.99 for this book alone, so the others were nice bonuses that I picked up.
If you've been reading my blog for a while, you'll know that I love a good gory and gruesome book. I can't wait to start reading this!
You probably already know this, but I love Darren Shan's books. I've never read his adult books however, so when I saw this I had to pick it up.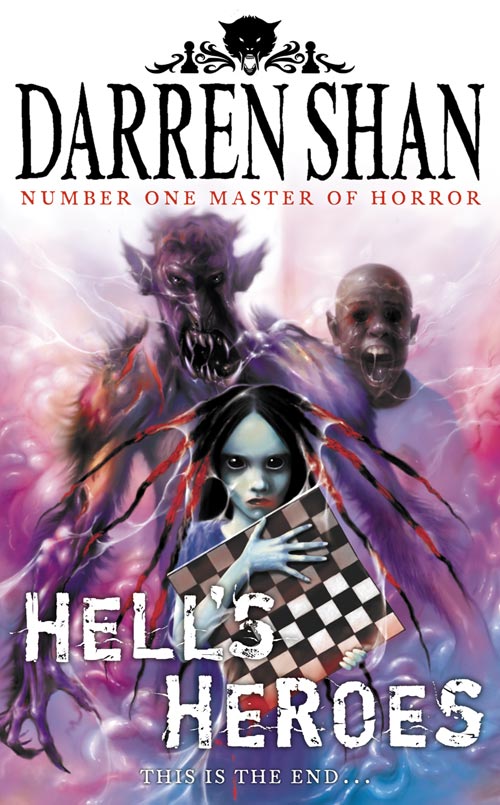 Hell's Heroes is the final book in The Demonata series. As you know, this is one of my all time favourite book series. I was actually missing this book from my collection as I had my copy signed by Darren Shan for a friend, so I finally purchased another copy! (I forgot to take a photo of this one – doh!)

NetGalley:
(ARC's – Advanced Reader Copies)
I've heard great things about I Am Thunder and I was so excited when I was accepted to review this on NetGalley.
---

Social Media Links:
For The Love Of Books Facebook – https://www.facebook.com/FTLOBOOKS/
Personal Facebook – https://www.facebook.com/ashleigh.williams.9041
For The Love Of Books Instagram – https://www.instagram.com/_fortheloveofbooks_/
Personal Instagram – https://www.instagram.com/ashleighcanflyy/
For The Love Of Books Twitter – https://twitter.com/FTLOBOOKS
Personal Twitter – https://twitter.com/ashleighcanflyy
Goodreads profile – https://www.goodreads.com/user/show/69229254-ashleigh-williams
Contact me:
Email – ashleigh-bekkah@hotmail.co.uk
Credit to:
Hell's Heroes cover – https://vignette1.wikia.nocookie.net/demonata/images/a/a5/Hell%27s_Heroes_cover.jpg/revision/latest?cb=20130702000758https://vignette1.wikia.nocookie.net/demonata/images/a/a5/Hell%27s_Heroes_cover.jpg/revision/latest?cb=20130702000758
NetGalley – https://www.netgalley.com/
Carnivore book cover – https://s3.amazonaws.com/netgalley-covers/cover118755-medium.png
I am Thunder book cover – https://s3.amazonaws.com/netgalley-covers/cover123970-medium.png
Everless book cover – https://s3.amazonaws.com/netgalley-covers/cover122896-medium.png
Miles Away From You book cover – https://s3.amazonaws.com/netgalley-covers/cover124567-medium.png
The Tattooist of Auschwitz book cover – https://s3.amazonaws.com/netgalley-covers/cover123029-medium.png
36 Questions book cover – https://s3.amazonaws.com/netgalley-covers/cover118144-medium.png
The Visitors book cover – https://s3.amazonaws.com/netgalley-covers/cover121132-medium.pnghttps://s3.amazonaws.com/netgalley-covers/cover121132-medium.png
Genuine Fraud book cover – https://s3.amazonaws.com/netgalley-covers/cover113879-medium.png