Hi everyone,
I hope you're doing well!
After a busy few months, it's great to get back into blogging regularly again. Today's post is a continuation of the Down the TBR Hole series. I can't believe it's been nearly two months since I posted one of these!
I hope you enjoy,
---
If you're anything like me, you have what feels like an endless TBR list. I personally use Goodreads to keep track of my TBR list, but whether you use a physical list or whatever you find most helpful, you can still do this post too.
The person who created this idea is called Lia and you can check out her blog and Down the TBR posts here. I think this is such a great idea.
The point of these posts is simple. It's a way of sifting through your TBR list regularly to make sure you still want to read the books you've added and remove ones that you no longer want to read.
My TBR list on Goodreads currently stands at a whopping 531! So I definitely think these weekly posts will help me to get on top of it.
Here is how these posts will work:
– Go to your Goodreads to-read shelf.
– Order on ascending date added.
– Take the first 5 (or 10 if you're feeling adventurous) books
– Read the synopses of the books (I'm going to post the synopsis of each book too, incase anyone is interested in hearing more about the books.)
– Decide: keep it or should it go?
Here's a link to my other Down The TBR Hole posts if you want to check them out:
#1 https://ashleighbekkah.wordpress.com/2017/09/20/down-the-tbr-hole-conquer/
#2 https://ashleighbekkah.wordpress.com/2017/09/21/down-the-tbr-hole-conquer-your-tbr-2/
#3 https://ashleighbekkah.wordpress.com/2017/10/01/down-the-tbr-hole-conquer-your-tbr-3/
#4 https://ashleighbekkah.wordpress.com/2017/10/03/down-the-tbr-hole-conquer-your-tbr-4/
#5 https://ashleighbekkah.wordpress.com/2017/10/13/down-the-tbr-holeconquer-your-tbr-
#6 https://ashleighbekkah.wordpress.com/2017/10/29/down-the-tbr-hole-conquer-your-tbr-6/
#7 https://ashleighbekkah.wordpress.com/2017/11/09/down-the-tbr-hole-conquer-your-tbr-7/
#8 https://ashleighbekkah.wordpress.com/2017/11/09/down-the-tbr-hole-conquer-your-tbr-8/
#9 https://ashleighbekkah.wordpress.com/2017/11/09/down-the-tbr-hole-conquer-your-tbr-9/
#10 https://ashleighbekkah.wordpress.com/2017/11/09/down-the-tbr-hole-conquer-your-tbr-10/
#11 https://ashleighbekkah.wordpress.com/2017/12/22/down-the-tbr-hole-conquer-you-tbr-11-blogmas-day-22/
#12 https://ashleighbekkah.wordpress.com/2018/02/06/down-the-tbr-hole-conquer-your-tbr-12/
#13 https://ashleighbekkah.wordpress.com/2018/03/13/down-the-tbr-hole-conquer-your-tbr-13/
---
1. The Tales of Beedle the Bard – J. K. Rowling
The Tales of Beedle the Bard, a Wizarding classic, first came to Muggle readers' attention in the book known as Harry Potter and the Deathly Hallows. Now, thanks to Hermione Granger's new translation from the ancient runes, we present this stunning edition with an introduction, notes, and illustrations by J. K. Rowling, and extensive commentary by Albus Dumbledore. 
Never before have Muggles been privy to these richly imaginative tales: "The Wizard and the Hopping Pot," "The Fountain of Fair Fortune," "The Warlock's Hairy Heart," "Babbitty Rabbitty and Her Cackling Stump," and of course, "The Tale of the Three Brothers." But not only are they the equal of fairy tales we now know and love, reading them gives new insight into the world of Harry Potter
Judgement: Keep
Of course I have to keep this book. I still can't believe I've not read it yet.
2. 50 Shades of Grey – E. L. James


When literature student Anastasia Steele goes to interview young entrepreneur Christian Grey, she encounters a man who is beautiful, brilliant, and intimidating. The unworldly, innocent Ana is startled to realize she wants this man and, despite his enigmatic reserve, finds she is desperate to get close to him. Unable to resist Ana's quiet beauty, wit, and independent spirit, Grey admits he wants her, too—but on his own terms.
 
Shocked yet thrilled by Grey's singular erotic tastes, Ana hesitates. For all the trappings of success—his multinational businesses, his vast wealth, his loving family—Grey is a man tormented by demons and consumed by the need to control. When the couple embarks on a daring, passionately physical affair, Ana discovers Christian Grey's secrets and explores her own dark desires.
Judgement: Bye
I had this book bought for me as a joke Christmas present when it came out. I still haven't brought myself to read it and to be honest, I don't think I ever will. I've read snippets and it's so poorly written.
3. The 11th Floor – Charles Culver
Luke, plagued by blackouts since a child, awakens in a room with a headless corpse. He escapes down a fire ladder and is led into a building owned by another one of the characters, Jonathan.
Jonathan, a millionaire who owns the building, opens his bedroom curtains that morning to find it's raining dead birds. When he arrives at work, he finds that his building completely deserted.
A father and daughter, on their way to a job interview, find an empty city and a disturbing vision of their dead bodies. They discover that the address given for the interview is the building owned by Jonathan.
Eddie, a homeless man, follows the other characters. Driven by his curiosity, he enters the building and becomes trapped in an elevator.
Each character experiences unique and disturbing challenges that they must overcome as they are lured up to the 11th floor of the Koenig building.
What awaits them in the building and up on the 11th floor? Will they be able to find the answers and help they have been seeking?
Judgement: Keep
The synopses sounds so intriguing!
4. Skin Deep – Laura Jarratt



Ugly people don't have feelings. They're not like everyone else. They don't notice if you stare at them and turn away. And if they did notice, it wouldn't hurt them. They're not like real people. Or that's what I used to think. Before I learned . . . .
After the car crash that leaves her best friend dead, Jenna is permanently scarred. She struggles to rebuild her life, but every stare in the street, every time she looks in the mirror, makes her want to retreat further from the world. Until she meets Ryan. Ryan's a traveler. When he and his mother moor their narrow boat on the outskirts of a village, she tells him this time it will be different. He doesn't believe her; he can't imagine why this place shouldn't be as unwelcoming as the rest. Until he meets Jenna. But as Jenna and Ryan grow closer, repercussions from the crash continue to reverberate through the community. And then a body is found.
Judgement: Bye
This book doesn't interest me.
5. Everything Everything – Nicola Yoon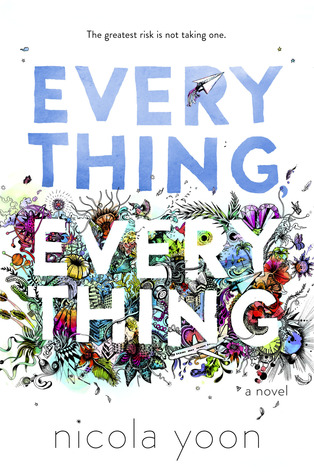 My disease is as rare as it is famous. Basically, I'm allergic to the world. I don't leave my house, have not left my house in seventeen years. The only people I ever see are my mom and my nurse, Carla.
But then one day, a moving truck arrives next door. I look out my window, and I see him. He's tall, lean and wearing all black—black T-shirt, black jeans, black sneakers, and a black knit cap that covers his hair completely. He catches me looking and stares at me. I stare right back. His name is Olly.
Maybe we can't predict the future, but we can predict some things. For example, I am certainly going to fall in love with Olly. It's almost certainly going to be a disaster.
Judgement: Keep
I bought this back last summer and I'm still yet to read it. It's staying on my TBR!
6. Freshers – Tom Ellen and Lucy Ivison


Uni beckons. Phoebe can't wait to be a fresher – especially since her crush from school will be there too. She'll be totally different at Uni: cooler, prettier, smarter … the perfect potential girlfriend. She'll reinvent herself completely. But Luke's oblivious, still reeling from the fallout of the break-up with his ex. Thrown head first into a world of new friends, parties and social media disasters – can Phoebe and Luke survive the year, let alone find each other?
Judgement: Keep
This sounds like an easy to read book I will enjoy.
7. A Map For Wrecked Girls – Jessica Taylor
We sat at the edge of the ocean—my sister Henri and I—inches apart but not touching at all. We'd been so sure someone would find us by now.
Emma had always orbited Henri, her fierce, magnetic queen bee of an older sister, and the two had always been best friends. Until something happened that wrecked them.
I'd trusted Henri more than I'd trusted myself. Wherever she told me to go, I'd follow.
Then the unthinkable occurs—a watery nightmare off the dazzling coast. The girls wash up on shore, stranded. Their only companion is Alex, a troubled boy agonizing over his own secrets. Trapped in this gorgeous hell, Emma and Alex fall together as Emma and Henri fall catastrophically apart.
For the first time, I was afraid we'd die on this shore.
To find their way home, the sisters must find their way back to each other. But there's no map for this—or anything. Can they survive the unearthing of the past and the upheaval of the present?
Judgement: Keep
This sounds like an interesting read. Also, how gorgeous is the cover?!
8. The Hate U Give – Angie Thomas


"What's the point of having a voice if you're gonna be silent in those moments you shouldn't be?"
Sixteen-year-old Starr lives in two worlds: the poor neighbourhood where she was born and raised and her posh high school in the suburbs. The uneasy balance between them is shattered when Starr is the only witness to the fatal shooting of her unarmed best friend, Khalil, by a police officer. Now what Starr says could destroy her community. It could also get her killed.
Judgement: Keep
Of course I'm keeping this book. It's high on my list of books I need to read soon.

9. If You Find Me – Emily Murdoch


A broken-down camper hidden deep in a national forest is the only home fifteen year-old Carey can remember. The trees keep guard over her threadbare existence, with the one bright spot being Carey's younger sister, Jenessa, who depends on Carey for her very survival. All they have is each other, as their mentally ill mother comes and goes with greater frequency. Until that one fateful day their mother disappears for good, and two strangers arrive. Suddenly, the girls are taken from the woods and thrust into a bright and perplexing new world of high school, clothes and boys.
Now, Carey must face the truth of why her mother abducted her ten years ago, while haunted by a past that won't let her go… a dark past that hides many a secret, including the reason Jenessa hasn't spoken a word in over a year. Carey knows she must keep her sister close, and her secrets even closer, or risk watching her new life come crashing down.
Judgement: Bye
I'm not feeling this book.
10. The Sun is Also A Star – Nicola Yoon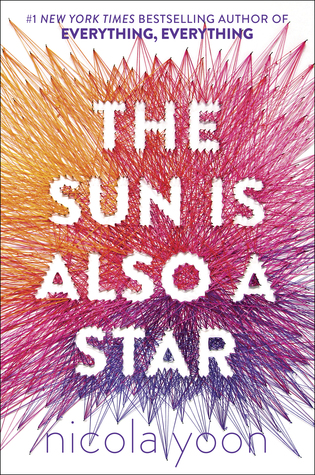 Natasha: I'm a girl who believes in science and facts. Not fate. Not destiny. Or dreams that will never come true. I'm definitely not the kind of girl who meets a cute boy on a crowded New York City street and falls in love with him. Not when my family is twelve hours away from being deported to Jamaica. Falling in love with him won't be my story.
Daniel: I've always been the good son, the good student, living up to my parents' high expectations. Never the poet. Or the dreamer. But when I see her, I forget about all that. Something about Natasha makes me think that fate has something much more extraordinary in store—for both of us.
The Universe: Every moment in our lives has brought us to this single moment. A million futures lie before us. Which one will come true?
Judgement: Keep
I've heard great things about this book.
---
I got rid of 3 books this week, better than none I suppose!
If you would like to purchase any of the books, you can do so here:
The Tales of Beedle the Bard
*
Fifty Shades of Grey
*
The 11th Floor
*
Skin Deep
*
Everything, Everything
*
Freshers
*
A Map for Wrecked Girls
*
The Hate U Give
*
If You Find Me
*
The Sun is also a Star
*
---
Social Media Links:
For The Love Of Books Facebook – https://www.facebook.com/FTLOBOOKS/
Personal Facebook – https://www.facebook.com/ashleigh.williams.9041
For The Love Of Books Instagram – https://www.instagram.com/_fortheloveofbooks_/
Personal Instagram – https://www.instagram.com/ashleighcanflyy/
For The Love Of Books Twitter – https://twitter.com/FTLOBOOKS
Personal Twitter – https://twitter.com/ashleighcanflyy
Goodreads profile – https://www.goodreads.com/user/show/69229254-ashleigh-williams
Contact me:
Email – ashleigh-bekkah@hotmail.co.uk
Credit to:
Beedle the Bard Book cover and synopses
50 Shades Book cover and synopses
11th Floor Book cover and synopses
Skin Deep Book cover and synopses 
Everything, Everything Book cover and synopses
Freshers Book cover and synopses
Wrecked Girls Book cover and synopses
THUG Book cover and synopses 
If You Find Me Book cover and synopses
TSIOAS Book cover and synopses
*Disclaimer – Any links with an * after them are affiliate links. This does not impact you as a reader of my blog. If you choose to purchase an item using an affiliated link from my site, I may earn a small commission. This does not affect the price you pay for an item or impact your purchase in any way. All of the money earned (if any) will be put back into my blog to allow me to make the best content I possibly can. I hope this is okay. 🙂